High-quality dog kennel doors must meet the most demanding requirements. When dog kennels, shelters, police K-9 forces, pet resorts, or breeders need dog doors, their requirements go beyond what someone would need for a private home. Kennel doors must stand up to extremely high-traffic environments. In some situations, an operator must be able to open and close the doors remotely, from outside the cages. 
What are Dog Kennel Doors and How Do They Work?
As the name suggests, this type of dog door is used in any facility where there are numerous animals using the door every day. This may be an indoor or outdoor dog kennel, humane society, airport K-9 force, or doggie daycare.
Kennel doors for dogs include a guillotine cover that operates with a cable and pulley system. This allows workers to open or close the door remotely. 
What Are the Advantages of Dog Kennel Doors?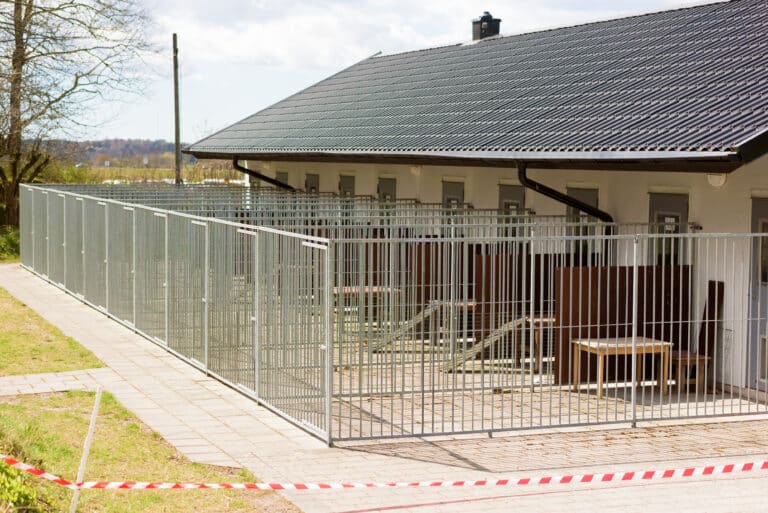 Kennel doors are frequently used in commercial facilities. They offer a specialized solution with handles outside of the cage. 
The advantage of this system is that workers do not have to touch or enter the cage to let the animals in and out. Everyone remains in a safe and comfortable working environment.
Some kennels don't want a door on the outside of the building. A Hale Pet Door kennel interior frame can be installed on the inside of the building to still provide access control and needed security.
Should I Get a Regular Dog Door or Kennel Door?
A standard dog door is designed for household use. It should be used when you want the option to completely take the cover off. You can replace the cover when you want to close the opening.
A kennel door, on the other hand, is designed for institutional use.  It has a channel at the top of the door that the cover slides into. It is then held open by the cable and pulley system. The remote operation of the cover facilitates safety as you open and close the door from a distance. You can allow the dog to use their outdoor run while you safely clean their interior kennel.
Each of these types can be used with or without flaps. You can remove the flaps to create free-flowing spaces. For example, some customers use them inside between kennels. This gives the ability to shut them off from each other when needed.
How Hale Dog Kennel Doors Are Made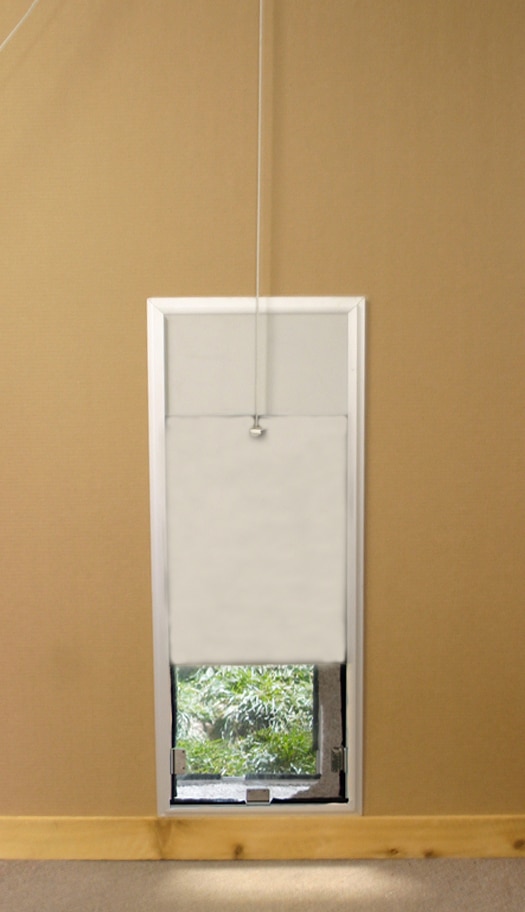 Hale dog kennel doors, like our standard pet doors, are of unparalleled quality and craftsmanship. Features include a heavy-duty extruded aluminum frame with steel reinforced corners, a high-density polyethylene wall guard panel, and a guillotine-style security cover. For the guillotine system, we use a vinyl-coated stainless steel cable, heavy-duty ceiling hooks, zinc swivel-eye pulleys, and a zinc alloy cover handle for reliable remote operation. Unlike electronic pet doors that can frequently fail, our heavy-duty kennel doors are built especially for nonstop use.
Each dog kennel door has PVC vinyl flaps with multiple strikes, Alnico magnets, nylon pile weather stripping, and a heavy-duty aluminum tunnel with olefin nylon carpet that's resistant to mold and mildew. Our water containment and diversion system consists of a rain cap and flashing. If you're looking for a dog kennel replacement door, you won't find a better one.
The Hale Pet Door Difference
In addition to the extremely high quality of Hale guillotine doors for dog kennels, and all our pet doors, we offer other advantages over our competitors. Our dog doors come in 12 standard sizes, and we also offer custom sizes. They can include an exterior cover, and we can design just an interior frame with the cover or make it through a full door or wall. We also offer a 5-year limited warranty covering all parts, including the flaps. If you need any replacement parts for your dog door, you can order them directly from us rather than having to use a third-party seller. This ensures that all parts are specially designed for your dog door.
Learn more about Hale's state-of-the-art kennel doors.