All dogs, regardless of their size, deserve a comfortable way to exit and enter your home, so they can freely go outside to explore, exercise, and "do their business" whenever they want to. It's not always easy to find a suitable giant dog door for your big boy or big girl. What if "large" just doesn't cut it for your gigantic, lovable pet? You and your four-legged family member can find the giant breed dog door you are looking for at Hale Pet Door.
What Breeds Can Use a Giant Doggy Door?
Dogs that need a giant dog door include the Bernese Mountain Dog, Great Dane, Mastiff, and Great Pyrenees, but other dogs can use it as well. If you have more than one, measure the largest so everyone can use it.
How Big is a Giant Dog Door?
Hale's giant breed dog door has a passage opening of 15-1/2 inches by 27-1/2 inches. It is designed for pets that are 12 to 14 inches wide with a shoulder height of 25 to 31 inches. Here are average shoulder heights for some giant breeds, as per the American Kennel Club, that can easily use our pet access door.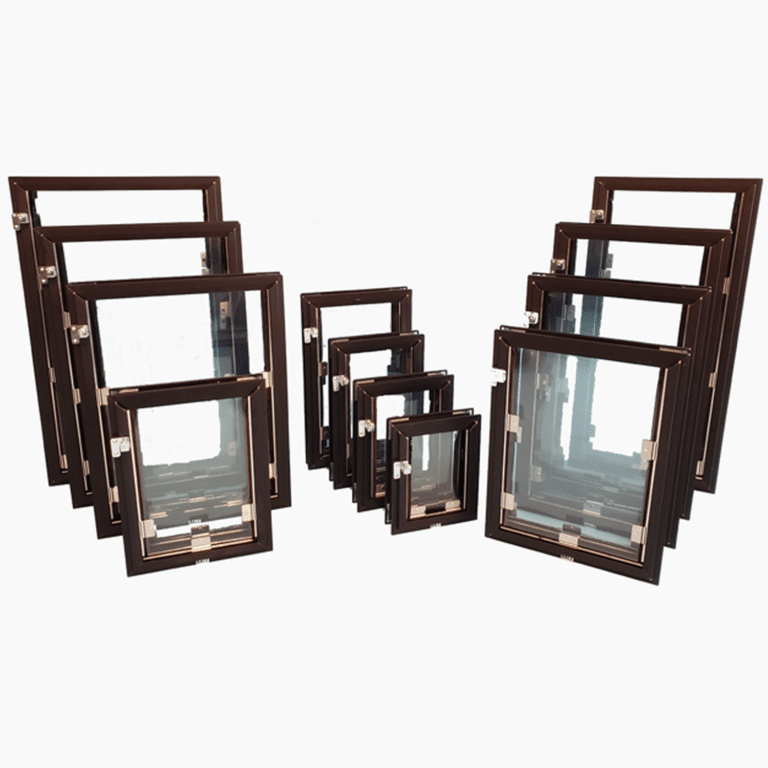 Bernese Mountain Dog

– 25-27-1/2 inches (male), 23-26 inches (female)

Great Dane

– 30-32 inches (male), 28-30 inches (female)

Mastiff

– 30 inches and up (male), 27.5 inches and up (female)

Great Pyrenees

– 27-32 inches (male), 25-29 inches (female)
For more information, see our dog breed pet Door sizing guide. There are other factors that play a role in proper giant doggy door measurements, such as your pet's weight, age (older dogs may need a little more room), and mobility. For very large dogs that need more space than our doggy door for giant breeds offers, we also make custom dog doors.
Can You Train a Giant Dog To Use a Pet Door?
Absolutely. Keep one or both flaps up so they get used to going through it and offer treats on each side as a reward. If they're timid, try our training flaps. They don't have strikes and magnets and are cut into strips so they are not as intimidating.
Why is a Hale Pet Door The Best Choice?
There are many reasons why our giant dog doors are the best on the market.
High-End Materials:

Our dog doors are made from extruded aluminum, with steel reinforced corners, PCV vinyl flaps, a high-density polyethylene security cover, stainless steel strikes, heavy-duty magnets, steel pin lock, and various types of weatherstripping.

Premiere Craftmanship:

All Hale Pet Door dog doors are made in the U.S. with expert craftsmanship at our factory. We do not outsource any of our products.

Energy Efficiency:

We use powerful magnets and strikes, plus multiple layers of weatherstripping, to optimize the energy efficiency of our dog doors.

Home Security:

Our dog doors come standard with an interior security cover that locks from the inside when not in use using a heavy-duty locking mechanism.

Installation Options:

With Hale giant dog doors, you have various options as to where you can install your dog door. You can choose from a big dog door for exterior door use, a large dog door for wall installation, a screen model pet door, or even an in-glass pet door. Need a giant dog door for sliding glass door use? No problem. What's more, we offer professional installation for in-glass models or provide

detailed instructions

on how to install each type, so that you can determine if you can do it yourself or if you need to hire a professional.

Original Manufacturer Replacement Parts:

While it's unlikely that anything will break on your Hale dog door, if it does, you don't have to buy a whole new door. Our customers can get all the replacement parts for their dog door directly from us and have peace of mind knowing that everything will fit perfectly.

Warranty:

Our customers also appreciate our 5-year pro-rated warranty, which covers all parts, and our premiere customer service.
The number one reason to purchase a Hale giant breed dog door is for the freedom it brings, both for you and your dog. No more having to wait around until a human realizes you want to go outside, and no more having to be an always-on-call "doggy doorman." Learn more about Hale's pet doors today.