What is the Best Dog Door for Large Dogs?
All pet doors should be durable against weather and frequent use, but larger animals need an extra rugged dog door. Make sure it's a bit larger than your pet requires, for added comfort.
How Do I Know What Size Dog Door to Get for My Large Dog?
Measure your dog's height and width, allowing a bit of extra room so they're comfortable. Choose a dog door company that offers a range of large sizes—and custom sizes, if necessary.
Measuring Your Big Dog for a Big Doggie Door
For the dog's height, measure from the bottom of the feet to the top of the shoulder. Measure the dog's width at the widest part. We recommend adding 1-2 inches extra for maximum comfort as they use the pet door. 
Here at Hale, we've offered not just one, but seven large dog door sizes since 1992.  These include: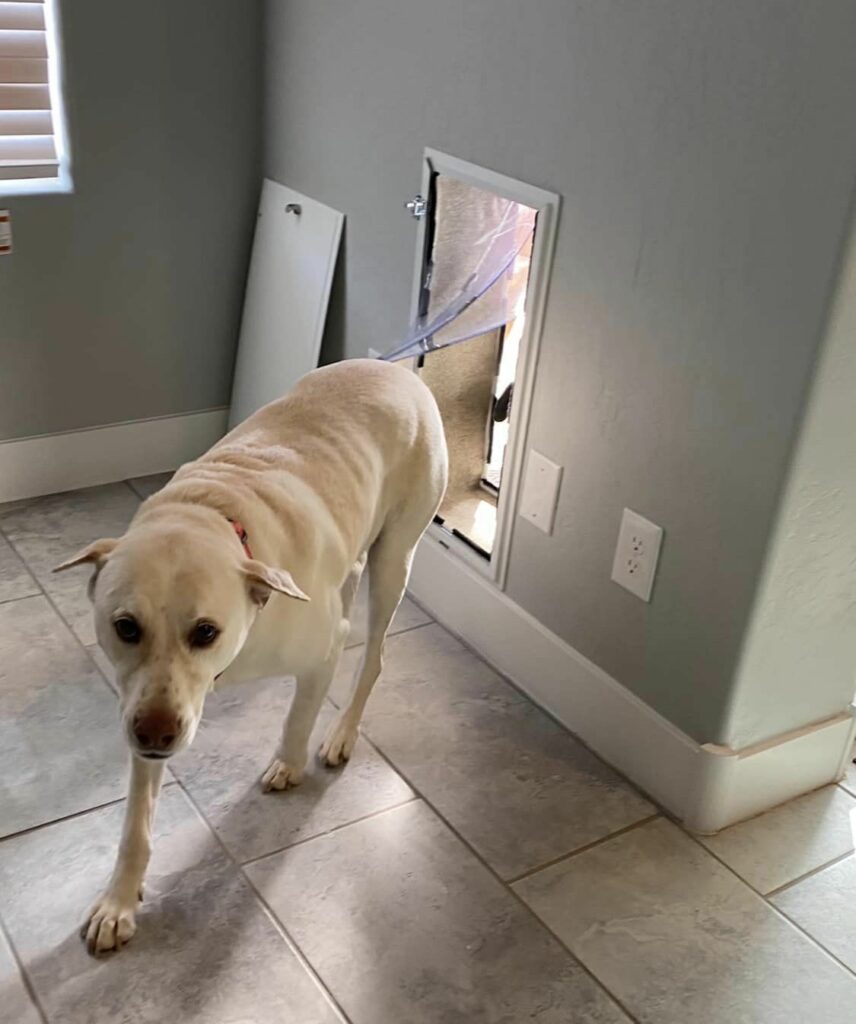 Large,

Tall Large,

T

all Large Plus,

Extra Tall Large,

Extra Large,

Extra Large Plus,

and Giant
The Large dog doors are designed for dogs 8-10 inches wide and with 15-20 inches shoulder height, while the Giant dog doors can accommodate 12-14 inch widths and 25-31 inch shoulder height.
When determining the ideal dog door size for your pet, please consider where it will be installed and how far off the ground the bottom will be. If none of the Hale pet door sizes are right for your big pooch, we can make a custom size just for them. 
See our Sizing Tips and Information page for dog door size details and measuring instructions. We also offer our pet door size guide to help select the right-sized pet door for different dog breeds, including the largest canines. However, there are other sizing considerations in addition to breed, such as whether they are fully grown, their age and any mobility issues they may have.
Doggy Doors for Big Dogs—What to Look For
Due to their size and weight, large and extra-large dogs need not only a full-size pet door but one that is built to last. Look for a frame made from extruded metal with reinforced corners rather than pressed metal or plastic, as it will be much stronger and more durable. Consider the materials used. Are they the best available? The flaps need to be extra rugged to stand up to frequent use by a larger, heavier animal. Heavy-duty magnets and steel strikes will provide a tight seal around the flap for protection against weather and insects.
Hale Pet Door – The Best Dog Door for Large Dogs
For the best heavy-duty dog door, choose Hale. All our pet doors, from the smallest to the largest, are made with extruded aluminum frames and steel-reinforced corners. They all come standard with dual PVC vinyl flaps for optimal energy efficiency. Other features include heavy-duty alnico magnets and stainless steel strikes, a high-density polyethylene security cover, steel pin lock, zinc alloy cover removal knob, mold-resistant carpet, and multiple types of weather stripping. 
We offer different dog door models for big dogs, including an in-wall dog door with a heavy aluminum tunnel. 
Hale Pet Door is a different kind of dog door company. Our pet doors are all built in-house in our U.S. factory, custom-made as each order comes in, with no outsourced parts. In the unlikely event that you need a part for your Hale dog door, we make replacement parts for every component, to ensure a perfect fit. Shop dog doors for your big doggy and contact our customer service team with any questions.