Ready to take your pooch on a road trip?
Here are some tips to make your trip amazing.
First things first, plan your route. Look for routes with plenty of rest areas or toll plazas. Many rest stops and plazas have some walking trails and even dog friendly parks to stretch your legs.
Make pet friendly accommodations. Many hotels and motels have pet friendly rooms available. Be sure to reserve these in advance so that you don't end up without a place to stop when you're ready to call it a night.
Stop by your veterinarian's office before your trip. Make sure that your pup is up to date on vaccinations, that their microchip is current, and that flea and tick prevention are on board. Request a copy of your pet's vaccination record and keep this with you on your trip. In case of emergency, you may need these records at another veterinarian's office, or to board your pet if another member of the family becomes ill or injured.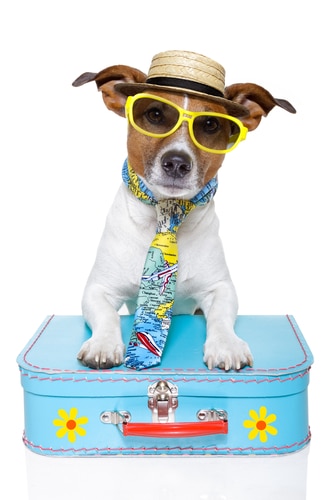 Bring the essentials. Pack travel bowls for food and water, as well as bottles of clean drinking water for Fido. Remember to bring toys and treats, so you have something to reward good behavior with, or to keep him busy in the car. Don't forget a comfortable collar or harness with up to date tags. Be sure that the pet tag includes a current cell phone number.
Protect your dog and your upholstery. Many veterinarians recommend using dog slings, seat belts and pet hammocks while in the car. These keep your pet safer in the event of a crash and keep your pet from wandering around the car and causing distractions. Put a liner or blanket under your pet's seat to protect your upholstery. If you're using a pet crate, then be sure it's plenty roomy and add a comfy blanket or towel along with a beloved toy.
Give yourself plenty of time and take many breaks. Puppies will need to use the bathroom every hour or two; older dogs can stop every three to four hours. Be sure to give yourself and your pet plenty of exercise on your breaks. Get out and walk or run with your dog where you find trails and play tug of war or roll around in the grass. A tired pup is usually a well-behaved pup for the next leg of your journey. Before you get back in your vehicle, offer fresh water and maybe some food or a treat, check your dog's coat and paws to be sure he didn't pick up any burrs or pests.
Finally, have a great time! Road trips are often the most cherished of memories. Get out and see the sights, take lots of pictures and enjoy the adventure.
HALE PET DOOR wants every family to enjoy their pets when away or at home. Log onto www.halepetdoor.com to browse a selection of beautiful pet doors for all sized pets and for any door or wall or other location in your home, office, or even the motorhome or RV you take on your road trip.