Summer is finally here and you and your pup are ready to hit the water together for some quality fun in the sun time! But before you and Fido dive in – there's a few things you need to know to keep your pup safe this summer.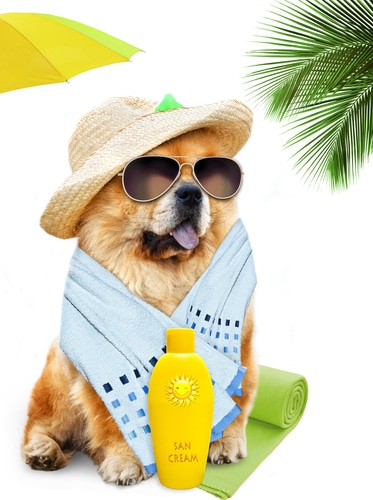 Don't forget the sunscreen!
This may surprise you, but dogs are vulnerable to getting sunburns, too! Especially those with lighter colored coats. There are even some amazing sunblock brands out there that are made specifically for dogs! So remember to throw a bottle in your bag before you head out the door.
Are you sure your dog can swim?
Before you even venture out into the water, it's pretty important to know whether or not your dog can even swim. Some breeds flourish in the water. Other breeds not only don't enjoy being in the water, but really struggle to swim well at all. So before you take your pooch for dip, let him explore some shallow areas first to see if it's something he'll enjoy or not.
Invest in a life vest
Whether your dog is a seasoned swimmer or a little nervous to even be near the water, a life vest is a smart item to purchase. No matter if you're taking your dog out on a boat, or going to play fetch in the nearby river, a vest can be a valuable safety tool to keep your four legged swimmer safe no matter what happens. Just make sure that you measure him and pick out a vest that will fit him appropriately.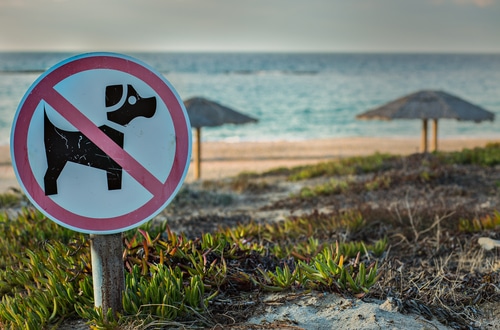 Don't forget that dog's are not allowed everywhere
As much as we adore our little fur babys, they're not always allowed everywhere we go. Some places are just not safe places for dogs to play. So be sure to check before you head out with your dog.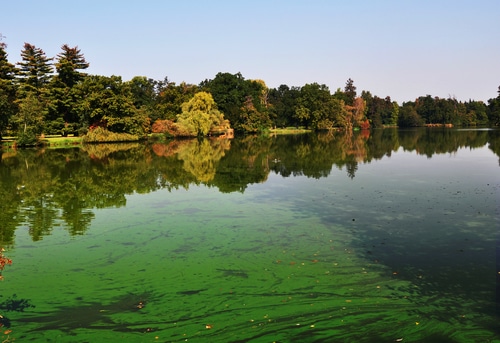 Be on the lookout for blue-green algae
You may have heard about it on the news. There is a bacteria known as cyanobacteria that's usually found in still waters like ponds and lakes. Although it's not always easy to spot, you can often see it as a blue or green film sitting on the water. Sometimes it will look like brown or green flakes sitting on the shore. Unfortunately this bacteria is often fatal to dogs, so if you see anything unusual in the water, keep your dog away.
Bring fresh water for your pooch to drink
Although your pooch may be tempted to drink from the water he's playing in, it's not always a good idea. If it's fresh water, it's probably fine, but it wouldn't be a bad idea to bring some bottles of water along for the trip just in case you encounter some water that looks a little less than safe. And if you'll be hanging out around the ocean, you'll most definitely want to bring water as drinking ocean water can make your dog very sick. Don't forget the collapsable bowls!
Don't forget to rinse!
After your dog is all finished playing in the water, don't forget to give him a good rinse to get any bacteria, chlorine, or debris out of his coat. If he decides to groom himself, you don't want him to ingest anything harmful off his skin and coat. Giving your dog a wash will also help keep his skin from feeling irritated from the water, sand, and debris he may have encountered. And don't forget to clean his ears – especially those breeds with floppy ears!
Have fun this summer and be safe!