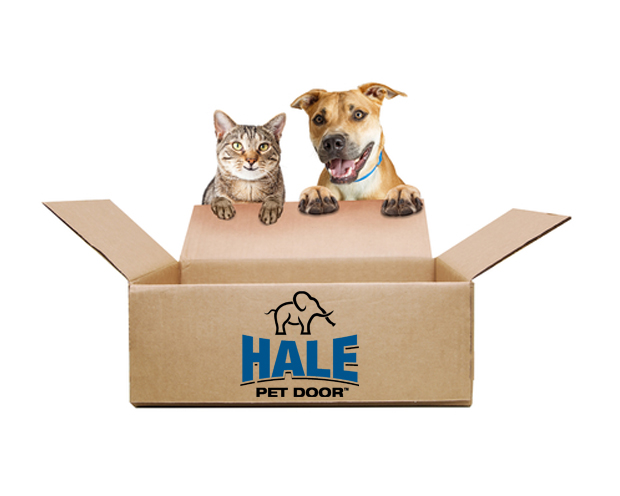 Due to COVID-19 our factory operations were temporarily interrupted. We are back to our normal production schedules, but please be aware that there may be intermittent delays in building and/or shipping orders due to unforeseen materials or personnel issues related to COVID-19. Thank you for your patience.
We gladly ship to international addresses.  However, a shipping quote needs to be generated and approved before the order is completed.  International customers are responsible for payment of all customs fees, duties, taxes or VAT charges incurred.  This fee is not included in the shipping charges you pay to Hale Pet Door but are paid directly to the appropriate agency for your country.  Generally, these fees must be paid before you can receive your package.  We do not have any method of determining ahead of time whether you will be required to pay a fee or what the rate will be.
Standard Processing Time:
Our standard processing time is listed in the chart below. Our business days are Monday through Friday.  Please note that this is the in-house processing time before the items are shipped.  Shipping times vary based on your location and the shipping speed selected and should be added to these estimates. All products are built to order and are not "stocked", however, we ship as soon as an item is built and can oftentimes ship quicker than the times listed below.
Products/Options
Shipping Estimate

Most Popular Products

Models=Door Model and Wall Model

Sizes=Small Medium, Medium, Tall Medium, Large, Tall Large, Tall Large Plus

Colors=White, Arizona Beige, Dark Bronze

If ordered by 11 am (Colorado time), ships in 2-3 business days. Ordered after 11 am, ships 3-5 days.
Other Pet Door Products


All Door and Wall Model sizes and colors not included above in most popular products

If ordered by 11 am (Colorado time), ships 3-5 business days. Ordered after 11 am, ships in 5-7 days.
Other Models without glass or special options on door and wall models

(i.e., custom sizes, mixed colors, side loads, etc.)

Ships in 3-5 business days
Special – All Models containing Glass
(Panels, windows, etc.)
Ships in 2-3 weeks due to the glass manufacturing process
Standard Barriers
Ship in 2-3 weeks due to build time
Simple Security Barriers
Ships in 5-7 business days
Ramps
Ships in 5-10 business days
Replacement Parts
 (excluding custom size flaps)
Ships next business day
Custom size flaps
Ships in 2-3 business days
Please note that the above times processing times may be longer due to high volume, holidays, or other circumstances beyond our control.
All orders with special request processing must have it written on the order.
Expedited shipping charges and estimates are not included in the above.
Standard Shipping Methods:
Our standard shipping method is either FedEx Ground or Home Delivery, UPS Ground, or United States Postal Service Priority Mail.  If you live in the 48 contiguous United States and order any of our smaller replacement parts (not including flaps), they will be shipped via USPS.  If you order flaps, any larger replacement parts, pet doors, ramps, barriers, and other larger items, they are shipped through FedEx or UPS. Some oversized items can only be shipped via FedEx Freight. Tracking numbers are emailed to you no matter which shipping method you choose.
FedEx Ground or Home Delivery or UPS Ground generally takes 1-7 days based on the distance to the destination from our factory and shipping facility in Canon City, Colorado.
USPS Priority Mail generally takes 6-10 days.
If you live in Alaska, Hawaii or outside the United States, we will provide you with shipping quotes via our website to determine the speed and method of shipping you prefer.  If for some reason, our website will not provide you with an automated shipping quote, you can call us at 800-646-4773 or email us at info@halepetdoor.com for assistance.  Once you have chosen your desired shipping method and speed, we will process your order.
Optional Shipping Methods:
You also have the options of Express Shipping for your order either through FedEx, UPS or the United States Postal Service.  NOTE: Expedited shipping does not reduce in-house processing time.  Pet doors containing glass will still require 2-3 weeks for cutting and tempering.  Barriers are built upon order and can take up to 2-3 weeks, etc.  Please keep these processing times in mind when choosing express shipping.
Some of the express shipping options and shipping speeds we regularly offer are listed below:
| Shipping Method | Shipping Speed |
| --- | --- |
| FedEx Express Saver or UPS Three-Day Select | 3rd business day by 4:00 p.m. |
| FedEx 2 Day or UPS Second Day Air | 2nd business day by 4:00 p.m. |
| FedEx Standard Overnight (does not include Saturdays) or UPS Next Day Air Saver | Next business day afternoon |
| FedEx Priority Overnight or UPS Next Day Air Early A.M. | Next business day morning (usually 10:00 a.m.) |
| FedEx Next Day Saturday Delivery Or UPS Next Day Air Saturday Delivery | Ships Friday, delivered by Saturday afternoon |
| USPS Priority Mail | Usually 3-5 days |
| USPS International Express | Speed varies by destination country |
Standard Shipping Rates and Shipping Estimates:
Shipping rates vary depending on the products ordered and the destination.  Some of our products have variable shipping rates while others are shipped at a flat rate. Below are tables for which items fall into those categories and the standard FedEx or UPS rates for the 48 contiguous United States.
Variable Rate Shipping Items
Product
Shipping Information

Pet Door Models for

Doors,
Walls (10" or 16" tunnels),
Screens
Replacement Flaps,
Replacement Covers

 
Shipping rates are based on the weight and size of the box and the destination zip code.  Put the items into your cart and enter your shipping zip code to get a quote with our website shipping estimator tool.

Ramps (all sizes and rises including custom ramps)

Ramp shipping rates vary greatly depending on the size of the ramp, rise requested, additional features (i.e. landing, foot, leg, railing) and zip code. Please call for a shipping quote before ordering.

Kennel Doors

Kennel Door shipping varies depending on the size of doors ordered and the quantity of doors ordered.  In the case of large quantities, FedEx Freight is usually the cheapest shipping option.  Please call for a shipping quote before ordering.

Storm Window Replacement Models

The price varies greatly depending not only on the size of the pet door ordered but also on the size of the window being replaced.  Any quote given by the website will be inaccurate and we reserve the right to charge you the correct shipping price from FedEx or UPS should you order without first receiving a quote from us.  Therefore, we ask that you please call with your dimensions before ordering so we can get an accurate shipping estimate for you.

Standard Security Barriers

Price varies depending on the size of the barrier and options chosen.  Barriers are shipped fully assembled and are generally shipped via FedEx Freight on a pallet. On rare occasions, they can be shipped via FedEx or UPS Ground or Express depending on the size and destination. Call for a quote before ordering. 

Custom Orders

Where possible custom orders will be shipped for our standard rates. However, in the case of extremely oversize items, shipping will be determined by using FedEx or UPS calculations for dimensional shipping and a quote will have to be obtained before the order is processed. Please call for accurate pricing and shipping quotes before ordering.  In most cases, our customer service representatives will assist you in placing your order through our website with the correct options and information.
| Product | USPS | FedEx/UPS Ground | FedEx/UPS 3 Day | FedEx/UPS 2 Day | FedEx/UPS 1 Day |
| --- | --- | --- | --- | --- | --- |
| Other Replacement Parts (2 rates based on size of parts) | $7.75/$15.05 | n/a | n/a | n/a | n/a |
| Regular Size Panel Pet Doors | n/a | $85.00 | $155.00 | $175.00 | $350.00 |
| Oversize Panel Pet Doors (over 82") | n/a | $115.00 | $185.00 | $205.00 | $380.00 |
| Window Models (sizes S, SM, TSM, M, TM) | n/a | $25.00 | $40.00 | $75.00 | $110.00 |
| Window Models (sizes L, TL, TLP, XTL) | n/a | $30.00 | $45.00 | $85.00 | $120.00 |
| Window Models (sizes XL, XLP, G) | n/a | $35.00 | $65.00 | $95.00 | $155.00 |
| Simple Security Barriers | n/a | $30.00 | $45.00 | $85.00 | $120.00 |
Shipping for Multiple Items:
When you order multiple items in the same order, it is usually not feasible for us to package them together as it would make the box sizes too large or the items would damage each other during shipping.  Some small parts will be combined for shipping but most orders including pet doors or other large products will be packaged and shipped individually.  Therefore, you will receive multiple tracking numbers and multiple packages.  If you are ordering 5 or more pet doors, please call us for a shipping quote as we can sometimes get cheaper prices with pallet shipping instead of individual packaging or by using FedEx or UPS Multiweight Service.
Backorders:
We strive to ensure that your products are available for shipping as noted in the timetables above.  On extremely rare occasions, we have an issue when a supplier cannot provide us with our materials in a timely manner.  Rather than compromise our high-quality standards and use lower quality materials, we choose to wait for the appropriate materials to process your order.  Should this circumstance arise, we will contact you via phone or email and make arrangements satisfactory to both parties.