As a dog lover, you'll already know that dogs share many traits with their human family members. Just like people, they sometimes need a bit of help to feel safe and comfortable. If your beloved pet has trouble hopping onto their favorite couch or your bed, or if they need access to a dog door that's not at ground level, a dog door ramp can help.
A ramp makes your home more accessible. In this guide, you'll learn everything you need to know about pet door ramps, including why you might need one, what your options are, and how to choose a dog ramp. Read more about Hale Pet Door's high-quality pet access ramp here.

What is a Dog Door Ramp?
A dog door ramp is an inclined structure that provides access to a dog door (or piece of furniture) so the animal doesn't have to climb, jump, and/or risk injury. For example, some pets find using a ramp much easier and more comfortable than using stairs.
Why You Might Need a Dog Ramp
Does your dog have difficulty accessing a raised dog door, sofa, or bed? This could be due to an injury, advancing age, or not being able to comfortably jump as high as they need to due to their body shape or size. According to PetMD, a senior dog may not realize their physical limitations and may behave as if they were still a puppy. However, just like humans, their bones and joints may not be as strong and supple as they used to be, and they may have limits in their range of motion.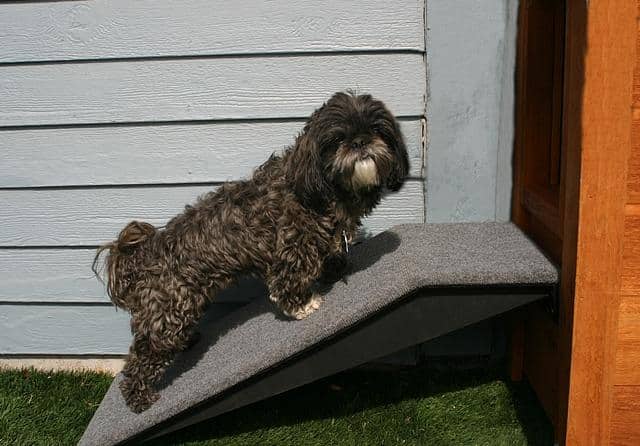 Your canine friend could benefit from a dog ramp if they:
Have trouble jumping onto furniture like they used to.

Hesitate or take a long time to "prepare themselves" before jumping.

Appear uncomfortable after jumping.

Hesitate to go up or down the stairs.
Are Ramps or Stairs Better for Dogs?
Dog ramps vs. stairs are a debate that depends entirely on your pet and what their difficulty is. Stairs require balance and agility to use safely and comfortably, so for dogs with less mobility, a doggie ramp may be better. Just make sure you purchase one that is anti-skid so your pet can easily maneuver on it without slipping.
What is a Standard Dog Door Ramp?
A "standard dog door ramp" is one that is used by your pet to access a pet door that is installed on a door or wall of your house. It should be inclined between 18 and 25 degrees to make it easy to use.
Hale Pet Door offers five standard widths and five standard rises (heights) along with custom sizes. Our standard ramp includes a 3-inch attachment area that secures it to your house or barrier. They can be used indoors or outdoors.
What Options Do I Have When Buying a Hale Ramp?
Ramps are great if you can't install your dog door close to the ground. When you purchase a Hale dog door ramp. Options and variations include:
Standard – Our basic ramp that goes up to the dog door.

Optional Landing – This ramp lets your dog stop at the top before they go in.

Optional Foot – The foot cuts four inches from the length of the ramp.

Optional Self-Standing – This type features a leg that is the entire height of the ramp so it can be set anywhere and does not have to be attached to anything.

Optional Railings – They can be added to one side or both sides to help guide your pet up or down the ramp.
Options can be combined to create the perfect custom ramp for your location and your pet.
What Do I Need to Know Before Ordering a Dog Door Ramp?
The pet ramp's width and rise height are the two most important details you need to know before ordering. Measure the width and height of the dog door (or other location, like your bed) from the ground before ordering the ramp to ensure it will fit.
At Hale Pet Door, we can custom-make any rise height that you need. For anything that is over 12 inches off the ground, we recommend railings for the ramp. We also have self-standing ramps that can be placed next to a couch or bed, and ramps that attach to the house. The ramps can be attached by the end, or on either the left or right side.
What Makes Dog Door Ramps by Hale Better Than Others?
Dog door ramps by Hale offer superior quality, durability, customization, and the ability to support a lot of weight. They have indoor/outdoor carpet that holds up well to time and the elements. Our ramps are also made with "speed bumps" so that your dog won't slip. Learn more about Hale's premium pet door ramps here.