Over time, your dog door (or cat door) will experience normal wear and tear. It may be outside weather conditions or heavy use over a long period of time that eventually causes your pet door flap to wear out.  Fortunately, it's possible to buy dog door replacement flaps, rather than having to buy an entirely new pet door. But what are your options, and what do you need to consider before you order one? We give you the information you need to help you make the best choice and measure it properly for a perfect fit. Learn more about Hale's replacement flaps here.
What Are Dog Door Flaps?
Dog door flaps are the coverings over your dog's door that keep cold, rain, and snow out while letting your pet come and go whenever they want. Most commonly, you will want your pet door to have interior and exterior flaps. A double-flapped door gives you better insulation and greater energy efficiency.
How To Care for Your Pet's Door Flaps
If you properly care for your pet door flaps, they can last a long time. For maximum longevity, we recommend that you use Simple Green cleaner or dish soap to clean the flaps for weekly cleaning. Do not use any cleaner that contains ammonia, as this could damage the material. Cleaning the flaps correctly on a regular basis will help reduce the wear and tear on the flaps. We also recommend using a wax protectant (like Turtle Wax or Armor All) once per month to help prolong the life of the flap.
Dog Door Replacement Flaps and Their Options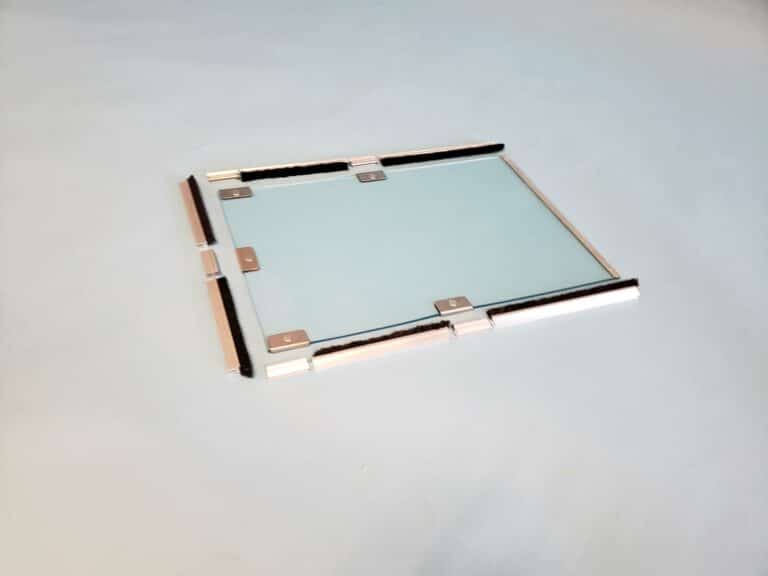 Even if you regularly clean and care for your doggie door flaps, you may find after several years that they need to be replaced. This is common.  At Hale Pet Door, we have two different options when it comes to buying dog door replacement flaps. 
If you just need the flaps themselves (or just a single one), you can buy them separately, without any hardware or weatherstripping. 


We also offer pet door replacement flap kits (seen here), which include brand-new weatherstripping and magnets. 
What is the Best Replacement Flap for My Dog Door?
The best replacement dog door flap is made for your specific brand and size of the doggie door. Hale Pet Door offers our customers the convenience of ordering the flaps alone or a complete dog door replacement flap kit.
How to Measure and Replace Dog Door Flaps
Before you order your dog door flaps, there are important things to consider. Carefully measure the outside frame, tip to tip, vertically and horizontally, then order the size that is intended for your pet door. We don't recommend measuring the flaps themselves as they can shrink, stretch, or tear over time. If you need help, we provide illustrated measuring instructions to help you. 
Are the Flaps Adjustable?
Dog door replacement flaps are not "adjustable" in the sense that the same flaps can work on different brands' pet doors. When you order the correct size for your specific opening, the magnets on the flap and door base should seal perfectly. All of Hale Pet Door models use the same replacement flaps. You just need to determine if it is interior or exterior. For more help, click "which side of your pet door needs flaps", then click more details.
Why Choose Hale Dog Door Replacement Flaps?
Our dog door replacement flaps are specifically designed to perfectly fit a Hale pet door. They are thick, strong flaps that are made from the highest quality materials. We offer a 5-year warranty if they tear, rip, or shrink. Click to order replacement flaps for your pet door now.