Is There a Pet Door for Screen Doors?
Yes. There are various companies that make a pet door for your screen. However, it is important to know that Hale offers options that are superior to the rest in terms of materials, durability, and craftsmanship. Our access doors make pets happy, and our premier customer service makes sure pet parents are happy too.
What Are My Options?
We offer three different options for our screen door doggy doors.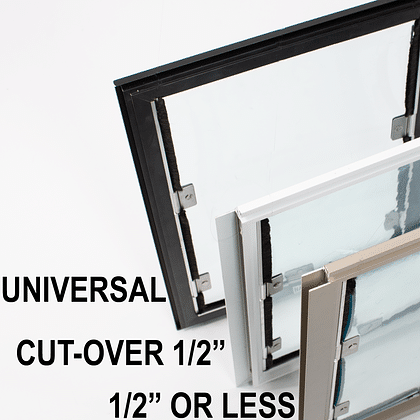 Half-Inch or Less Model

– Legs on one side and bottom slide over an existing frame thickness of 1/2 inch or less. Our proprietary spline frame on the other side and the top holds the door's screen spline and mesh.

Cut Model

– Commonly used for screen porches, sidelights, or lanais, and screen door frames over 1/2″ thick. This model has modified legs and is screwed in place. The spline frame's channels on the other two sides hold the screen spline and mesh.

Universal Model

– This model has channels or grooves on all four sides. Metal retainer clips help to connect the pet door to the screen door frame. With this model, we recommend using the screen stabilizer bar, especially with sizes large and above.
All three feature a high-quality flexible flap that closes tightly against strong magnets and the pet door frame's weatherstripping, making ours a far more effective bug-proof dog door than our competitors' models.  Our screen model pet door is designed to be convenient and long-lasting. 
What is a Dog Door Screen Stabilizer Bar and Do You Need One?
If there's a big or exuberant pooch in your home and you order the Tall Large screen model pet door or larger, we recommend the optional stabilizer bar kit. The stabilizer bar fits across the screen door and attaches to the top of the pet door, giving stability to 3 sides of the pet door, instead of only 2. The stabilizer kit consists of a spreader bar, aluminum clip, and metal retainers. The bar was created to act as a brace for additional strength and rigidity.
What if My Dog is Hesitant to Use Their Access Door?
For bashful doggies and finicky felines, we offer our pet door training flap. Made from the same material as the standard flap, it has no magnets and is "sliced" into strips for easier use. It is designed to help your fur baby get accustomed to the idea of using their new pet door. 
The Hale Pet Door for Screen Door Use
What makes Hale's the best dog door for screen doors? Unlike our competitors' plastic models, we use heavy-duty extruded aluminum for all our pet doors, including our screen door model. We build all our pet doors as the orders come in, here in the U.S. in our factory. There is no labor outsourcing. When parts get worn, you can get whatever replacement parts you need directly from us. All of our products come with a 5-year pro-rated warranty.
Learn more about our pet doors for screens and contact us with any questions. Ditch your unpaid "doggy doorman" job and enjoy the fresh air.