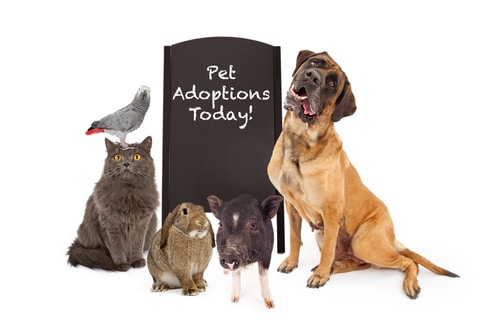 March is a month when lots of people think about "good luck" because of St. Patrick's Day.  Millions of animals aren't so "lucky" because they end up in pet rescues, animal shelters, and humane societies every day.  But fortunately, a larger percentage than ever before of those millions of animals are experiencing a change in their fortunes and being adopted by loving, forever homes.
Hale Pet Door has made pet rescue a priority mission during our almost 35 years in business and we continue to do so with your help through our Rescue Rewards Program.  Together we can make a difference in the lives of so many animals.
What We Have Done
Hale is proud to announce that we now have well over 2500 participating pet rescue organizations around the country and we have donated over $400,000 to these organizations to further assist their efforts in helping homeless animals everywhere.
How can you help?
Adopt don't buy – Every pet bought at a pet store is one less adopted from a shelter and many pet store animals have come from puppy mills or disreputable breeders who do not provide humane conditions for their breeding animals.
Spay or Neuter your pets – Don't add even more animals to the problem. Controlling the pet population at the source is a huge first step.
Volunteer  – Check with your local humane society or a pet rescue.  Animals need walked, fed, socialized, trained, kennels cleaned and more.
If you can't adopt, FOSTER –  Maybe you can welcome animals into your home temporarily until they find their forever home.
To help your newly adopted or your current pet have the best of both worlds (inside and outside), consider a Hale Pet Door to give them and you more freedom in your lives.  And with Hale's Rescue Rewards program, you not only help the pet you adopted you help other animals as well.  When you purchase a pet door for your adopted pet and tell us the name of the rescue or humane society where you adopted them, you get 10% off your purchase and we donate an additional 10% back to the rescue so they can continue helping even more animals.  A LUCKY day all around!