The Importance of the Right-Sized Doggy Door for Large Pets
Ordering the correct dog door size is critical for the health and safety of your beloved family member. That's why at Hale Pet Door, we have seven different sizes for large animals. You can also order a custom size.
Your dog might be able to use a pet door that isn't perfectly sized for them, but this could be unhealthy and uncomfortable. If your pet uses a door that is too small:
They might get stuck

, which could make them fearful and hesitant.

They can have future health issues

from trying to squeeze through an opening that's too small or too short.

Increased wear and tear on the flaps

can cause them to wear out faster than they should, leading to a frequent need for replacements.
The right-sized dog door should be easy, comfortable, and safe for your pet to use—and if you purchase your pet door from Hale, it should last for years without needing replacement parts.
Which Dog Breeds Need a Full-Size Pet Door?
Some of the dog breeds that need a full-size pet door are the Golden Retriever, Bernese Mountain Dog, Great Dane, Irish Wolfhound, Siberian Husky, Saint Bernard, Bulldog, Boxer, and Bloodhound. However, these dogs have very different shapes and unique requirements. For example, a bulldog, at just 14-16" tall, will need a wide dog door but doesn't need a very tall one, whereas an Irish Wolfhound can be twice as tall.
Large pet doors are for bigger dogs, but that's not the entire story. Hale's full-size pet doors for large dogs come in these 7 standard sizes: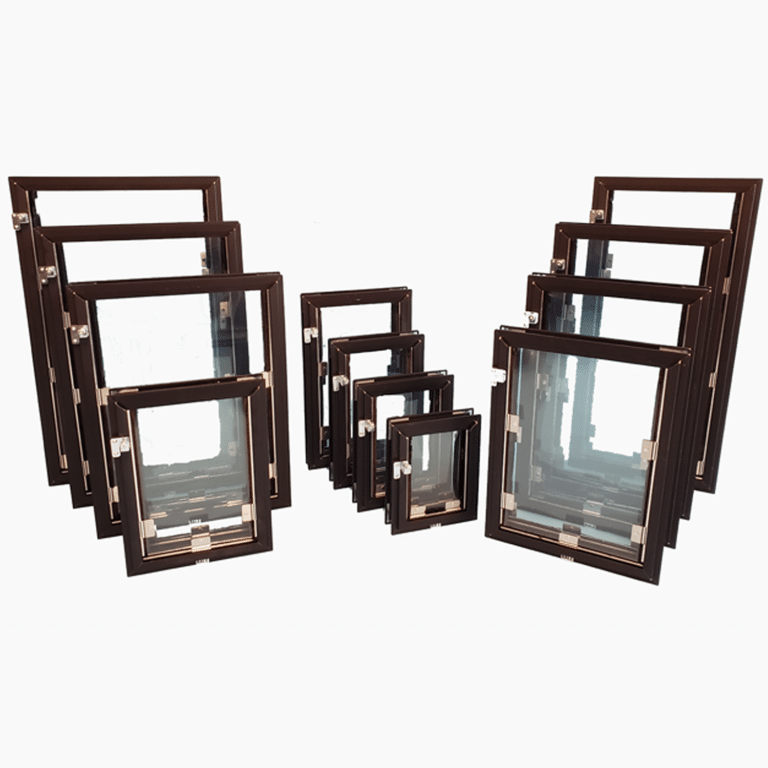 Large

Tall Large

Tall Large Plus

Extra Tall Large

Extra Large

Extra Large Plus 

Giant. 
Customized solutions are also available. See Sizing Tips and Information for detailed measurements. Match your dog's width and height with our dog door size chart to find the right pet door for your dog. We explain how to measure your animal for the best pet door fit. Make sure you go by the width and height, rather than just their weight.
What Size Dog Door Do I Need?
For taller dogs that aren't very wide, there are the Large to Extra Tall Large sizes. These accommodate dogs 8" to 27" tall and up to 10" wide. For bigger/wider dogs, we offer Extra Large, Extra Large Plus, and Giant.
How to Measure for a Dog Door
Measure your dog's height from the floor to the top of its shoulders. For the width, measure across the chest. You can also see our Breed Sizing Guide.  However, it's advised to take exact measurements. For more detailed sizing and measuring instructions, see our sizing guide. If your dog is a puppy, don't forget to consider their breed's full-grown size.
How to Train Your Dog to a Use Doggy Door
If this is your first dog door, it's easier than you might think to train your pet to use it. You can use a favorite toy or treat to help coax them. There are also training flaps that can be used temporarily. We offer tricks and tips for training your pet to use a pet door.
What is the Best Full-Size Pet Door?
When comparing different dog door brands, look for company expertise, high-quality materials, durable construction, a wide variety of models and options, easy availability of replacement parts, great customer support, and a generous warranty. 
Hale Pet Doors offer the following benefits:
Manufacturing pet doors since 1985

Top-quality craftsmanship and superior materials

Several models to choose from (pet door for doors, walls, screens, sliding glass doors)

All replacement parts are available direct from the manufacturer

Premiere customer support

Generous 5-year warranty.
Quit being your doggie's doorman. Learn more about our pet door products.