Why You Might Want an In-Wall Dog Door
It may be that the outside space you want to give your dog (or cat) access to isn't near the door. Or you may wish to hide the dog door and not have it visible. It may be that you want to:
Keep your home's exterior doors intact and free from modifications.

Hide the pet door behind a bush or outdoor furniture for added security.

Fence in a portion of your yard for your pet and have the dog door lead to that area.
What other possibilities are there? Consider installing a small doggie door for wall use inside your home, to provide access to a private room for a cat or a smaller dog in a multi-dog home.
How Do In-Wall Doggie Doors Work?
They work because you have a tunnel that can go through the wall. The in-wall pet door is available with tunnels of different lengths for different types of walls. These models work for many different wall types.
What is the Difference Between a Dog Door for a Door vs. a Wall?
The only difference between the door model and the wall model is that there is a tunnel for the wall model pet door. You can choose from a standard tunnel length, which fits up to a 10-inch thick wall, or the oversize model, for walls up to 16 inches thick.
Can I Install a Wall Dog Door Myself?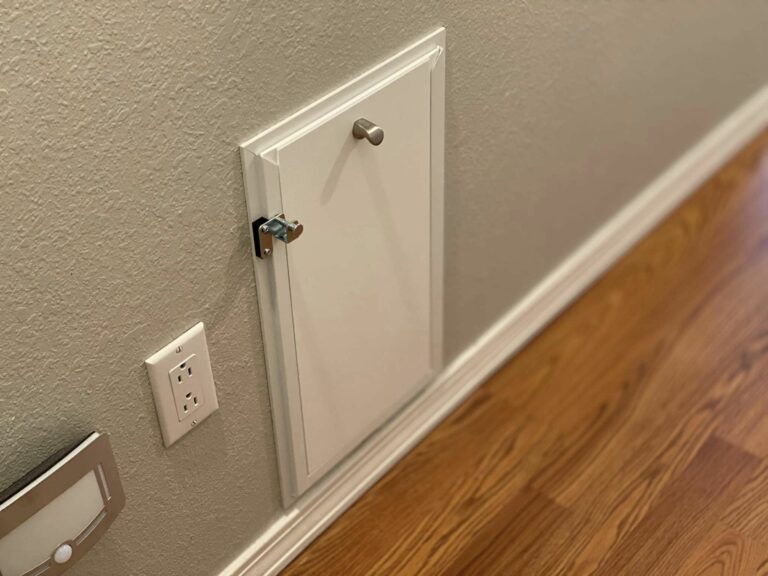 That depends on how handy you are and if you have the proper tools. Dog door in-wall installation can often be done by the homeowner. At Hale Pet Door, we provide step-by-step wall model pet door installation instructions for DIY enthusiasts. However, the instructions are written for installation in a wood or metal stud wall frame.
For walls made of other materials, you may need to enlist someone with more technical expertise. In these cases, Hale offers professional installation for our pet doors, and our experts can handle virtually any type of installation. Dog door in a stucco wall? Sure. A dog door in a garage wall? No problem.
Can I Install Dog Door in Brick Wall?
Yes, you can install a wall-model dog door in a brick wall. Dog doors can be installed in drywall, concrete block, and brick, and through exterior siding, brick, or stucco.
Why Hale Pet Door is a Top Choice
Whether you're interested in a large in-wall dog door for your big boy or girl, to provide them hidden access to a fenced-in yard, or a small wall model dog door for your kitty, we make the best in-wall dog door on the market. Why? Because they're made from extruded aluminum and not plastic, with other premium materials like PVC vinyl dual flaps, alnico magnets and stainless steel strikes, heavy aluminum tunnels, mold-resistant carpeting, high-density polyethylene security cover, steel pin lock, and multiple types of weatherstripping.
Hale pet doors are made to order in our own U.S. factory, and we make replacement parts for all parts of the door, should you need them. Shop Hale's in-wall pet doors now.