What Breeds Can Use a Small Doggy Door?
Dog breeds that typically can use a smaller doggy door include Chihuahuas, Shih Tzus, Pomeranians, Yorkshire Terriers, Maltese, Miniature Dachshunds, and Lhasa Apsos. But there are other considerations, like age and mobility. Older dogs and those with mobility issues may need a dog door that's a little larger than the norm to be completely comfortable.
An Important Note About Hale Pet Door Sizes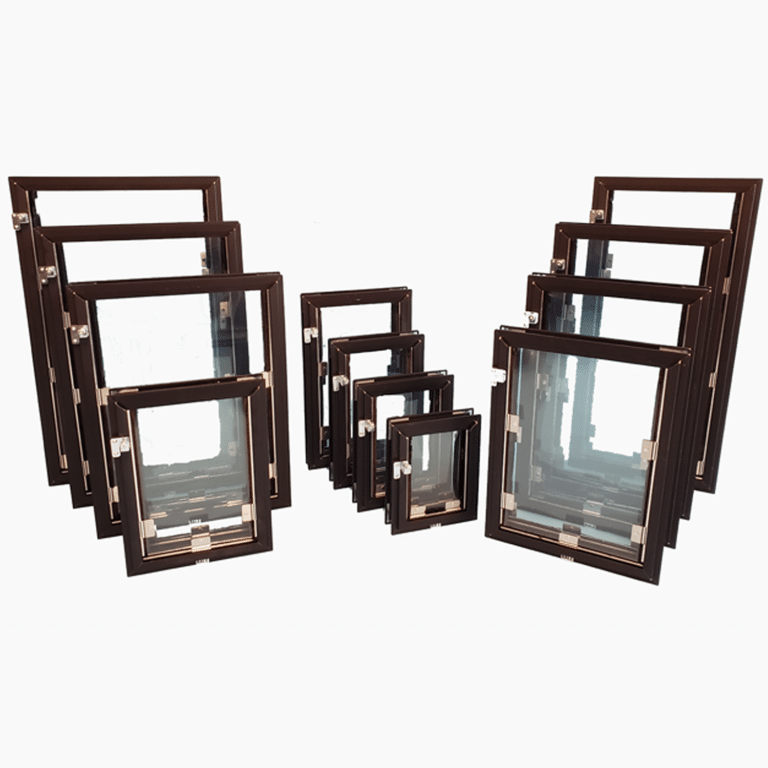 Unlike our competitors, Hale offers more than just small, medium, and large dog doors. We have 12 different sizes. Because of this, our "Small" doggie door is designed just for small cats.
If you have a small dog, such as a Chihuahua, Maltese, Shih Tzu, or Toy Poodle, the size you want is Small Medium or possibly Tall Small Medium.
Passage openings (the area your pet goes through) are as follows:
Small Medium – 6-1/2" x 9-1/2"

Tall Small Medium – 6-1/2" x 12-1/2"
For more precise measurements and guidelines according to breed, see our Dog Breed Pet Door Sizing Guide.
Hale Offers You Flexibility for Your Small Dog
Since not all small doggie households are the same, we give you options. In addition to our standard door model dog door, we offer a small doggy door for wall use and a small doggy door for sliding glass doors or windows. We also have screen-model pet doors. For small dogs that need a little help to access their dog door or for situations where a doggie door must be installed higher than usual, see our small dog ramp for dog door use.
How to Train a Small Dog to Use Doggy Door?
If your small pooch has never used a doggy door, have no fear. Nearly any pet can be trained to use a dog door, with a little patience and some positive reinforcement.
Remember these important tips:
Use two people, one inside and one outside.

Be patient and don't force the animal through the door.

Make it an enjoyable experience by enticing them with a treat or toy.
Small dogs are trained the same way as bigger dogs are trained. Wait until your pet wants to go out, and gently bring them to the door. Go to the other side and open the flaps toward you. Gently coax them through by offering a toy or treat. When they're ready to go in, use the same method to bring them back inside. See our simple guide for more information. If these tips don't work, a training flap is available so your pet can get used to using their access door.
Why is Hale the Best Doggie Door for Small Dogs?
Hale is the best dog door for small dogs for many reasons. In addition to the top-of-the-line materials, our dual-flap doggy doors are designed for greater insulation and energy efficiency. We offer different colors to coordinate with the color of your home. All our dog doors — and dog door replacement parts — are built with expert craftsmanship here in the U.S. at our own factory, and all orders are made as they come in. And you can get all the replacement parts directly from us. See our full line of pet door products here.