Why Pet Door Size Matters
Just because a dog can squeeze through a pet door doesn't mean that this movement is healthy for them. In fact, straining or contorting to get through a doggy door that's too small or too short may cause long-term physical damage, such as putting unnecessary strain on their hips. Older dogs might not use the pet door if it's uncomfortable. Some people make the mistake of buying a pet door for their new puppy or kitten, not thinking about what will happen with they grow into an adult.
The Hale Pet Door Size Guide
Our sizing guide gives you detailed measurements that help you determine the best dog door size for your pet. Browse our pet door size guide or search by your dog's breed to see our recommended dog door sizes. Are there any breeds that are "tricky" to size for? Not really, but you may have a pet that falls into an in-between size. In this case, we always recommend the larger pet door. If none of the sizes are right for your pooch (it happens), then we can make you a custom dog door.
Hale Pet Door Sizes
Do you need a small dog door or a giant doggie door? Something in between? At Hale, we offer the following sized pet doors: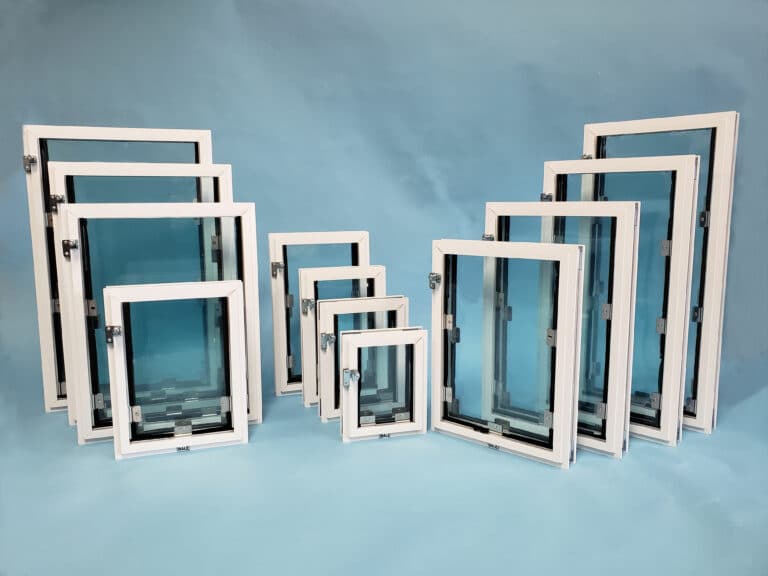 Small, 

Small Medium, 

Tall Small Medium, 

Medium, 

Tall Medium, 

Large, 

Tall Large, 

Tall Large Plus, 

Extra Tall Large, 

Extra Large, 

Extra Large Plus, 

and Giant.
Other Pet Door Sizing Considerations
When measuring your dog or cat for a pet door, also consider:
Where is the pet door being installed (door, wall, window, screen, etc.)?

How far off the ground is the bottom of the pet door?

If your pet has any mobility issues. 

The type of outside access that is needed.
Our sizing information page has additional tips and illustrations. 
What Size Dog Door Do I Need?
Once you measure your animal's height and width and consider their age and if they will grow more, add an inch or two for easy access. For multiple pets, choose a size that all can use comfortably.
How to Measure for a Dog Door
With your dog standing up, measure from the floor to the top of the shoulder, plus their width at the widest point. Add 1-2 extra inches so they can go through the pet door comfortably.
The Hale Difference
For our premium quality pet doors, we use extruded aluminum with steel reinforced corners, PVC vinyl flaps with heavy-duty magnets and stainless steel strikes, a high-density polyethylene security cover and steel pin lock, and multiple types of weatherstripping. Each pet door is built in-house in our U.S. factory and made to order to our customer's specifications. Choose from four different frame finishes to coordinate with your home décor.
Why settle for a generic dog door when Hale offers so many options? In addition to our 12 Hale Pet Door sizes, they can be installed nearly anywhere in your home. While a pet door for doors is the most popular option, this might not work for your pet and your home. That's why we also have an in-wall dog door, a dog door for windows, a pet door for screen use, in-glass pet doors, and even two options for sliding glass doors. Check out all of our pet door options now.