Dog Door for Sliding Glass Doors – Your Options
There are a few choices for a sliding glass door doggie door. An in-glass model installs into the slider or the stationary panel. A standalone panel pet door for sliding glass doors fits into the track of your existing "people door", either on the sliding side or the stationary side. Depending on your needs, one may work better than the other.
One advantage of putting the pet door into a sliding glass door is that it is installed in the glass itself, so it does not take up any additional space. The disadvantage is that you must purchase a new piece of glass to put the dog door into. This can be costly for both the new glass and the installation.
The panel model is its own piece, and it can be installed much easier than the in-glass model. This is a great benefit for do-it-yourself enthusiasts. You have the ability to remove the panel whenever you like. One slight disadvantage is that since it is a separate piece, it does take some space away from being able to use the full sliding glass door.
Sliding Glass Door Doggy Door Tips
If you are thinking about adding a sliding glass dog door to your home, there are important considerations. Here are our top three pro tips for choosing a dog door for sliding glass door use.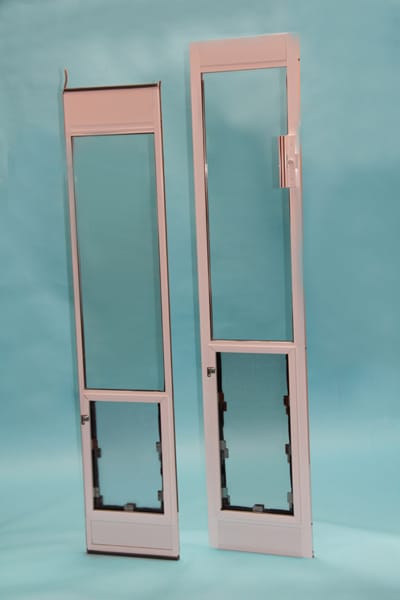 Tip 1: If you move, you can take a panel model with you.
At Hale, we offer two different types of sliding glass door panel pet doors. The Standard Panel model and the Omni Panel. The Standard Panel is attached directly to the door frame for extremely sturdy, permanent installation. It is manufactured to the measurement of your door with the final height adjustment done at the time of installation. It is attached to the door jamb and locks into your sliding glass door. It narrows the "people passage" through the door.
The Omni Panel offers an easier installation. This is a slim model that is easily removable. Also manufactured based on your exact measurements, it is pressure-fit for a sturdy installation. This model also narrows the passage for people to walk through, but less than the Standard Panel. It is great for renters as it is easily removed. The Omni Panel is not recommended for oversized heights.
Tip 2: If you want full use of your sliding glass door, then the in-glass model is the better option.
For simple installation, the panel model may be best. However, if you need your sliding glass door to fully open, without any reduced space, then the in-glass pet door is the better option.
Tip 3: You can't just cut the glass you already have because it will shatter.
Do NOT try to install an in-glass dog door yourself! Sliding glass doors are made with tempered glass, and unless you get professional installation, you will risk injury and almost certainly ruin the door.
Patio Door Dog Door Frequently Asked Questions
You may have some questions about sliding glass door pet doors. Here are a few answers.
What is the Best Dog Door for Sliding Glass Doors?
For a sliding glass dog door that you can install quickly and that doesn't require an additional piece of glass, the Hale Pet Door's Panel Models are the perfect solution. We offer permanent and easy-to-remove models.
How to Measure for a Sliding Glass Dog Door?
There are a few measurements to take. You will need to know the size of your glass door, the size of the track, the size of the pet door, and a couple of other key measurements. When you talk to a Hale representative, they will review all of the measurements that are needed to create a secure fit.
How Secure Are Pet Doors for Sliding Glass Doors?
Hale's Standard Panel model screws into the door jamb and locks directly to the door's leading edge with a patio door-style lock. The Omni Panel model includes an Omni Lock Bar that allows secure closure of the sliding patio door with the installed panel.
The Hale Pet Door Difference
Hale Pet Doors for sliding glass doors are crafted in the USA using higher quality materials than our competitors. For the frame, we use metals instead of plastic. Our pet doors are designed for maximum comfort for your pet and maximum energy efficiency and security for you. And we offer our own replacement parts, so you don't have to rely on third-party, inferior parts. Learn more about our in-glass and panel model pet doors and get started now.