What Pet Door Replacement Parts Does Hale Offer?
Hale is unique, as we offer a full range of pet door replacement parts. We have flaps, flap kits, and training flaps available, in addition to covers, weather stripping, tunnels, and even magnets and pin locks.
Replacement Dog Door Flaps
Hale's replacement flaps are individually designed for each of our dog door models. We provide specific instructions on measuring the frame, to ensure a perfect fit. We also offer videos to show how to install your new flap, plus detailed information about adjusting the magnets for a weatherproof seal.
Dog Door Training Flaps
A training flap helps to make your pet more comfortable about using a pet door for the first time. They're designed to be like the standard flap but without strikes and cut into strips that are easier to push through. We have these available for all 12 of our pet door sizes.
Dog Door Rain Caps
As the first company to offer rain caps on pet doors, they're part of our water diversion system. If you need a replacement, we offer them in all 12 sizes and four different finishes to match your dog door. Rain caps are standard on our wall models and optional on door models.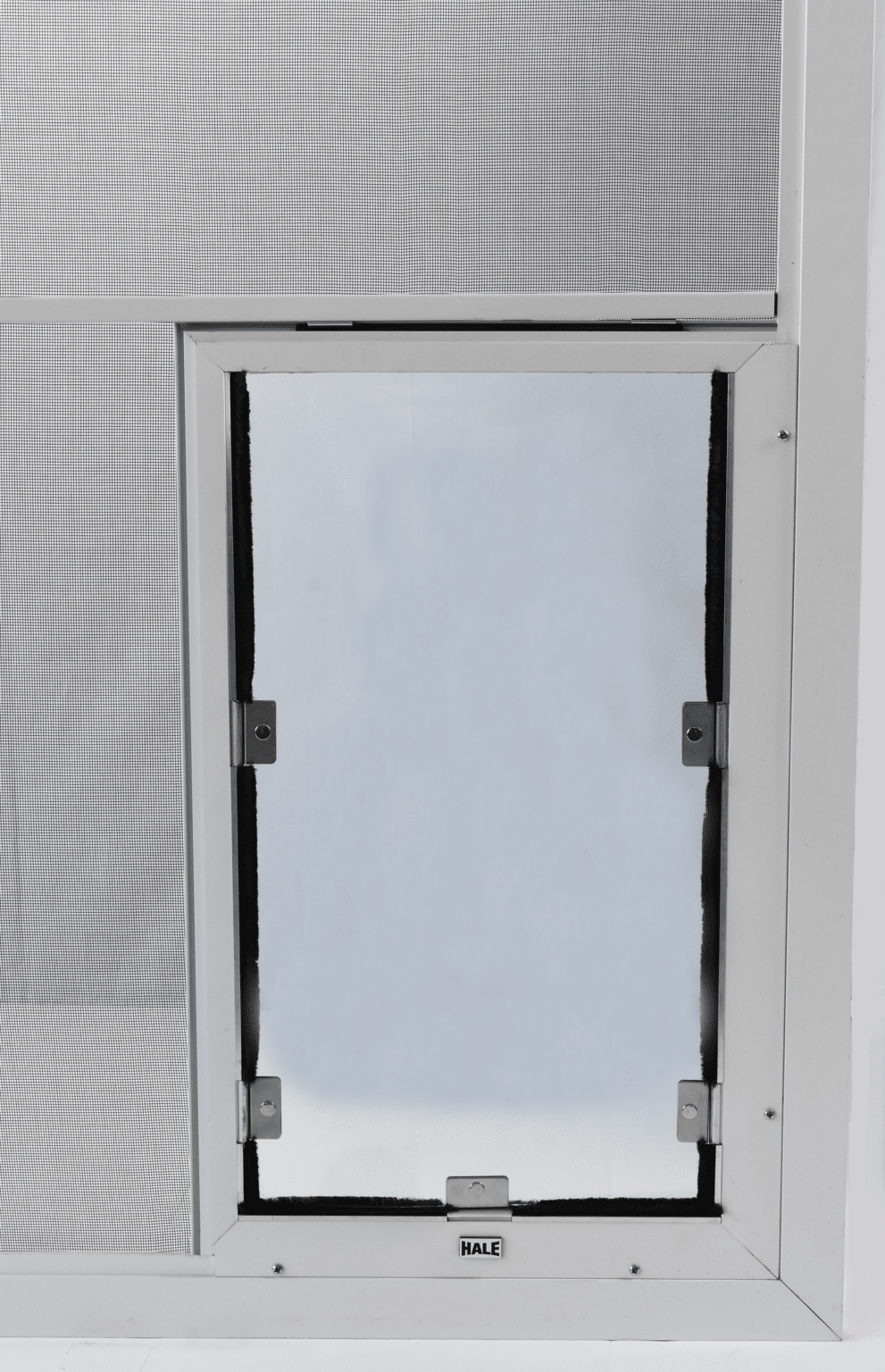 Screen Stabilizer Bar and Stabilizer Kits
If you use a screen stabilizer bar for your screen model dog door and want to replace either the complete kit or a particular part, we offer both options. Screen stabilizer kits are recommended for larger screen model dog doors, especially if your pet is extremely energetic.
Dog Door Locking Mechanisms
Replacement locking mechanisms are available for all window and panel model pet doors. We offer standard panel locking strips, patio door locks, and Omni lock bars.
Dog Door Tunnels
Designed for wall-model dog doors, these tunnels can also be used to convert a door model into a wall-model dog door. Choose pet door size and tunnel length, and we also offer oversize tunnel lengths and custom sizes. Our tunnel kit includes flashing and new carpeting.
Dog Door Carpeting
Do you need an in-wall dog door carpet? We've got you covered! Choose your dog door size and either 10" or 16" width. We also offer larger widths on request.
In addition to these dog door replacement parts, you'll also find replacement pet door covers, buildouts (for thinner doors or to adapt a door model to a window pane), weather stripping, locking mechanisms, flashing, magnets and strikes, pin locks, and knobs.
Premium Quality Hale Dog Door Replacement Parts
Why should you choose Hale for your dog door replacement parts? Because we're simply the best. Our pet door parts, like our pet doors, are designed from the highest quality materials and are made to be sturdy and safe for your animals.
You buy directly from us, with no third-party sellers and no outsourcing. Every pet door and spare pet door part is manufactured, built, and assembled in-house at our factory, using our own cutting and fabrication tools. We have everything you'll ever need for your dog door. We stand by every pet door and all our dog door parts with our 5-year warranty. Order your Hale replacement parts for pet doors now.