The Important Benefits of a Pet Door for Cats
Even though your cat has their litter box and doesn't need to go outside to relieve itself, cats instinctively love having the freedom to explore. The problem is, every time they want to go in and out, they have to meow at the door and wait for you. Then, they have to repeat the process from the other side when they want to come back in. A pet access door for your cat solves this problem.
An indoor pet door for cats allows free access. You can give kitty easy access to their special place, whether in a certain room, favorite closet, or catio. You can install our pet doors through walls, doors, windows, and even in a sliding glass door (professional installation required). 
What Kind of Pet Door is Best for Cats?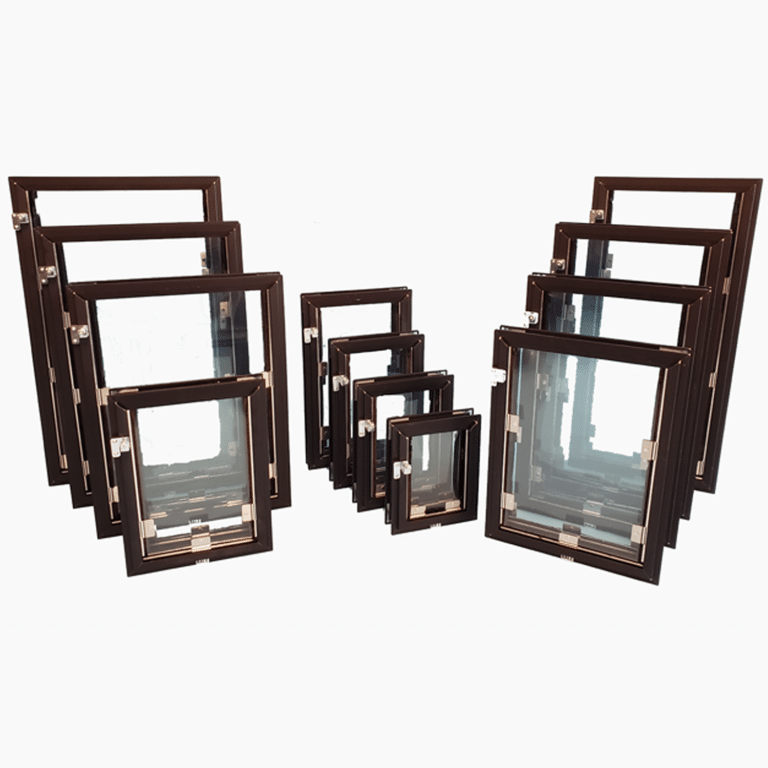 The best pet door for your cat is made for long-lasting use and is sized right. Cat doors are usually on the smaller side.
We offer a "small" size for very small cats. The "small-medium" size is for cats that are more average in size. But what if your feline is a bit "chunky"? They may be more comfortable with our "medium" sized door.
Hale offers 12 pet door sizes to accommodate larger cats or multiple animals.
Where/How to Install Pet Door for a Cat?
Unlike many of our competitors who just sell products, Hale offers step-by-step instructions on installing each of our pet door models. For more complex installations, you can hire one of our trained professionals. 
Our cat door can be installed in many locations, from a front door to an interior wall or porch window.
Train Your Cat to Use a Pet Door
If your kitty is a bit shy about using their new pet door, you can train them to be more comfortable by using treats or their favorite toy. Here are some tips and tricks on how to train your cat to use a cat door. Although a dog is pictured in the illustrations, these techniques work just as well for cats. If they are still hesitant, a training flap can help.
What Makes Hale Pet Doors the Best Pet Door for Cats?
Whether you're looking for a window pet door for cats or you're considering a cat door for walls inside your home, Hale's pet doors are the very best. They're made with premium materials and parts, such as extruded aluminum, heavy-duty flaps, premium weatherstripping, and a high-density polyethylene security cover with a steel pin lock for optimal security.
Our pet doors are manufactured in the U.S. We guarantee that you will be 100% satisfied with your purchase. At Hale Pet Door, we are not just salespeople; we listen to your needs and concerns to ensure that you get the right product. As with our pet doors, we do not "outsource" our customer service. The entire customer service team is in one office. Shop our pet doors now.